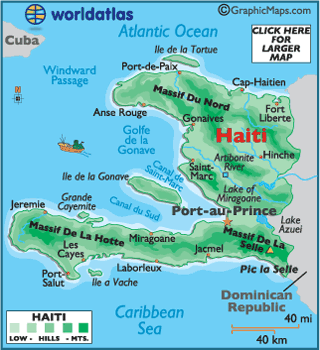 The Haitian people were once citizens of the French colony, Saint Domingue. After many conflicts and revolts the Haitian people had enough of the French aristocracy and declared their independence. But the colony that was once France's most vital economic settlement was not going to become free that easily. Napoleon Bonaparte and his American allies came down upon the Haitian people, after one failed attempt to recapture Saint Domingue, he made them a proposition that will leave a mark on Haiti for years to come.
Napoleon forced the new Haitian people to pay him 100 million francs for official recognition. But to make matters worse for this young nation is that they had to borrow the money from a single French bank. This enabled the bank to charge extravagant interest rates; making Haiti unable to pay off it's debt for almost a century. This debt put a severe damper on Haiti's economy, and to add on to their failing economy they were suffering from post-independence isolation from rest of the world. Different countries may have isolated themselves from Haiti for various reasons, but there was one major common reason. The Haitian leader
Toussaint L'Ouverture was a well respected man black man among the Haitian people. He helped in the success of the slave revolt that took place in Haiti, which made many other nations scared. L'Ouverture abolished slavery within Haiti which made their economy suffer even more on top of everything else.
Outside of the French and Haitian relationship laid America, the first nation to be born in the new world. Although America had gone through similar circumstances with the British during their revolution, they did not support Haiti. In fact, America did not recognize Haiti as an independent nation until six decades later when it was in midst of the American Civil War. During the time when Haiti became independent Thomas Jefferson was Vice President of the United States and later became President. He tried to block off trade with Haiti, joined forces with France to
conquer Haiti, and kept the American people as far as possible from Haiti. Thomas Jefferson, one of the Founding Fathers of American, and a major player in the American Revolution was trying to stop a revolution. He was scared that the ideas and ideals in Haiti will spread to the American South. Thomas Jefferson didn't want black slaves in America to revolt as they did in Haiti. He didn't want them to be inspired by Toussaint L'Ouverture as a black leader of his own nation.
Haiti suffered from all aspects and all corners of the globe when they became independent. They themselves hurt their economy in a extravagant manner by abolishing slavery. They suffered even more as they owed France 100 million france; and could only take a loan from one French bank. The Haitians were isolated from the world without any allies to help them in their state of despair. America tried everything possible to hold Haiti down because they were scared of what it would do in their own nation. From the very start of Haiti's independence they suffered a great deal which had an impact that lasted years after. As they were a suffering nation to begin with, in 2010 they felt the impact of a devastating earthquake that destroyed a large portion of their country. A tragedy that would cost them 14 billion dollars to rebuild, after rebuilding for the last 200 years Haiti will once again have to suffer.